Your home is probably going to be the most expensive thing you'll ever purchase. Investing in your home through home renovations and improvements will help you raise its value. It is like taking money out of one pocket and putting it in another. When purchasing a home, especially if you are building a brand new home, choosing masonry materials like brick or natural stone as a building material or an exterior cladding material has many benefits.
Masonry has a high return on investment.
Curb appeal is stronger with exterior masonry. Real estate professionals would agree that a masonry home is more appealing to potential buyers that a similar home with vinyl or stucco siding. Masonry is classic, won't go out of style and can greatly improve the aesthetics of your home. Stone Solutions Inc, masonry contractors in Edmonton, can help you design your home's exterior using beautiful natural stone.
Masonry also gives you more bang for your home improvement buck. Remodeling Magazine's Cost vs. Value Report 2016 showed that a manufactured stone veneer renovation could recoup 92.9% of your cost, up from 0.7% from last year. That also means that if you spend about $7,500 on masonry for your home's exterior you can expect your overall home value to increase by $7,000.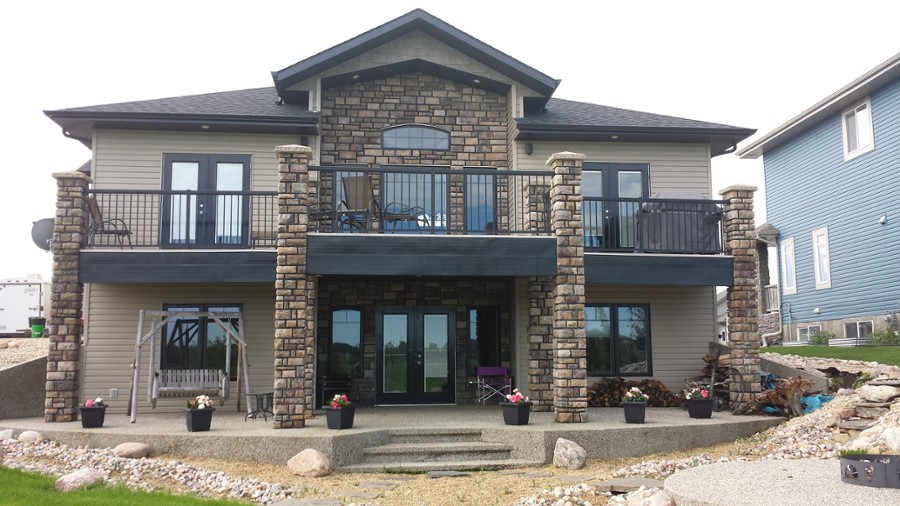 Masonry could last for centuries!
Masonry has been used in construction for centuries, even thousands of years. You can still see masonry-built buildings in ancient Rome and the breathtaking cathedrals throughout Europe. This is proof that building a house with brick will greatly outlast any home built with wood. It also shows that beautiful natural stone cladding will also last the test of time.
Plus, masonry is almost maintenance free. It won't rot, dent or need to be painted and it is resistant to fire, water damage and pests. You won't have to worry about replacing it, repairs will be few and far between, and all of these factors will add up to even more cost savings making masonry more affordable in the long run.
Edmonton Masonry Contractors
Stone Solutions is an Edmonton based masonry company with over 20 years of combined experience in construction. With a dedicated staff they know how to get the job done and meet your needs. Their commitment to you, like their product, is rock solid. Their team is made up of the best Masonry Contractors in Edmonton.