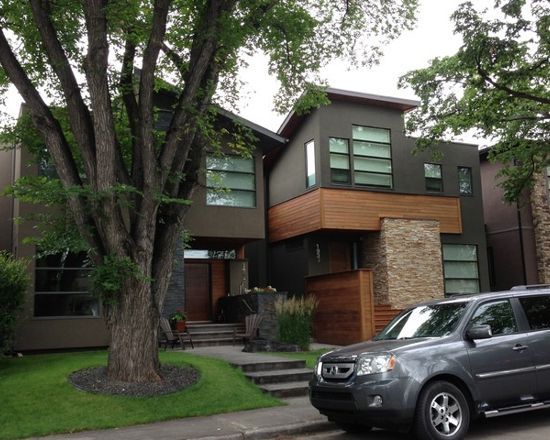 Flat roofs are becoming popular in new home design. They're sleek, modern, and practical. Whether you're building a home with a flat roof, or need to have your old flat roof repaired or replaced, there are things to think about. Flat roofing systems vary and can be made up from a range of materials and installation methods.
J-Cubed Custom Inc. in Calgary share some things to consider when installing a new flat roofing system:
Not all flat roofs are the same
There are a few different types of flat roofing. Types of flat roofs include modified bitumen roofs, single-ply roofs, EPDM roofing (rubber), PVC, TPO, and Built-up flat roofing. While the materials you use are important, how the flat roofing system is designed and installed is essential. J-Cubed Custom Inc. can help you decide on the best flat roofing system for you. They'll consider things like the slope of the roof, climate, cost, maintenance, and energy efficiency.
Maintenance requirements
There are a few requirements to take note of before considering flat roofing on your home. Because flat roofs are, well, flat, water and snow can accumulate on the roof. This accumulation can lead to damage and leaks, which is why it's important to have your flat roof inspected annually. A roofing contractor will find any suspect areas of the roof that might need attention. You can also prevent damage by cleaning off your flat roof, ensuring your eavestroughs are working properly, and inspecting the roof annually.
Benefits of flat roofs
Flat roofing comes with many benefits. Materials like metal are more environmentally friendly, efficient, and are incredibly long-lasting. With material like rubber, the installation process is easy because the material comes in a single roll. The process is quickened makes it a great economical choice as well. Built-up roofing is a more flame retardant material to use and is a cheaper material, but may need replacement sooner or later. It does, however, make a good temporary fix to your immediate roofing issues. Each flat roofing material has its own advantages and should be considered as a roofing option for your home.
Roofers in Calgary
J-Cubed Custom Inc. full-service roofing company, providing installation services in both sloped and flat roof applications. At J-Cubed Custom Inc., their team of professionals wants the experience on your project to be both enjoyable and without concern. J-Cubed Custom Inc. involves you in every step of the process, and values the relationship with their clients, believing there should be open communication and trust.
Interested in flat roofing? Contact J-Cubed Custom Inc. today!
RenovationFind Certified is a symbol of integrity held by only the most trustworthy companies in home improvement, service, maintenance.  It increases consumer confidence in your business, giving you an edge over your competition while validating you as the best.
More than an online directory, we are Western Canada's fastest-growing marketing platform for promoting and connecting the best trades, service, and home improvement companies to homeowners.