There are many benefits to installing solar panels to power your home or business.  Solar panels provide a means of producing your own clean energy from a renewable resource, rather than relying on electricity generated by burning carbon intensive fuels. Not only will solar panels eliminate the tonnes of carbon you would normally use every year, they will help you save and sometimes even earn money on your power bills.
How much do solar panels cost?
The answer is – it's quite variable.  Numerous factors must be considered such as your roof area, azimuth, pitch, budget and desire.  You will have to pay for the engineering and installation of your panels, but the biggest part of the cost is the materials including the solar panels themselves.
Solar is typically assessed in Dollars per Watt ($/W) which gives a fair representation of the value of your investment aka your "bang-for-buck."  The lower your $/W the better.
Standard solar panels are 265W to 365W depending on what module/inverter configuration works best.  An average grid-connected Alberta solar power system will be around 14 to 24 solar panels or approximately 4 to 6kW.
This means that your average solar installation in Alberta will be around $13,000 to $17,000, fully installed.
Learn more about the cost of solar panels here.
Save money with solar energy.
Did you know that most of what you owe on your electricity bill comes from a variety of fees, based on how much energy is used, and not from the actual commodity you are purchasing to power your home? Imagine getting a credit on your power bill, instead of money owed.
With solar panels you will import less energy from the grid, reducing or even eliminating your fees entirely from your monthly energy bill. If you generate 100 per cent of your energy from solar panels in Alberta, or anywhere in Canada for that matter, you will find that your transmission charge and much of your distribution charge will disappear off of your bill.
How much it decreases depends on how much energy you import from the grid. Realistically you're likely to use a little from the grid during the winter or at night when your solar panels may not provide enough energy to cover your needs.
So how can you get a credit from the power company with solar energy? The microgeneration credit. This credit is related to how much energy is sold back to the grid for the given period of time. If you are producing more energy than you are using, it goes back into the grid and you can get a credit for that energy.  That means your energy bill could actually be a negative number. Learn more about how solar energy affects your power bill.
Installing a solar energy system for your home or business is big investment, but a smart one as it can pay for itself over time. Over a 25-year span, the cost of generating electricity from home solar panels is significantly less than purchasing electricity from a retailer. The more solar energy you use, the more money you save.
Reduce your impact on the environment.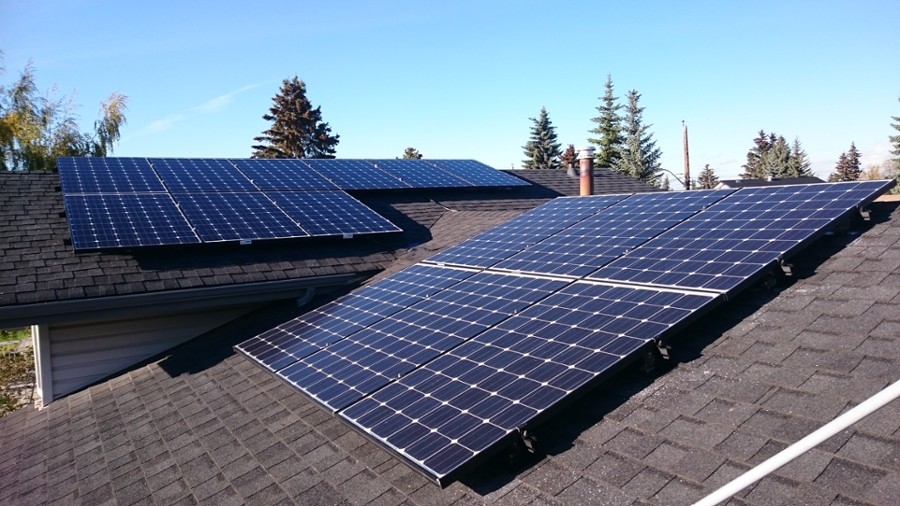 Beyond saving money, you'll be reducing your environmental impact. Carbon emissions are at an all-time high and the planet is undergoing changes caused by too much carbon in the atmosphere. Using the power of the sun to produce the energy we need will make one of the largest impacts on reducing those emissions on a daily basis.
Photovoltaic (PV) arrays emit zero carbon, no noise pollution and can significantly reduce your carbon footprint. PV arrays can provide the same energy as fossil fuels but at a fraction of the cost since no excavation, transportation or combustion is required. Energy generation can be damaging to the environment, but solar energy is not.
Edmonton Solar Panels
Kuby Renewable Energy Ltd. is a solar company in Edmonton and a full-service solar panel installation and electrical contractor. They specialize in the engineering, procurement and construction (EPC) of solar power systems, electrical projects, and electric vehicle chargers for homes and businesses.